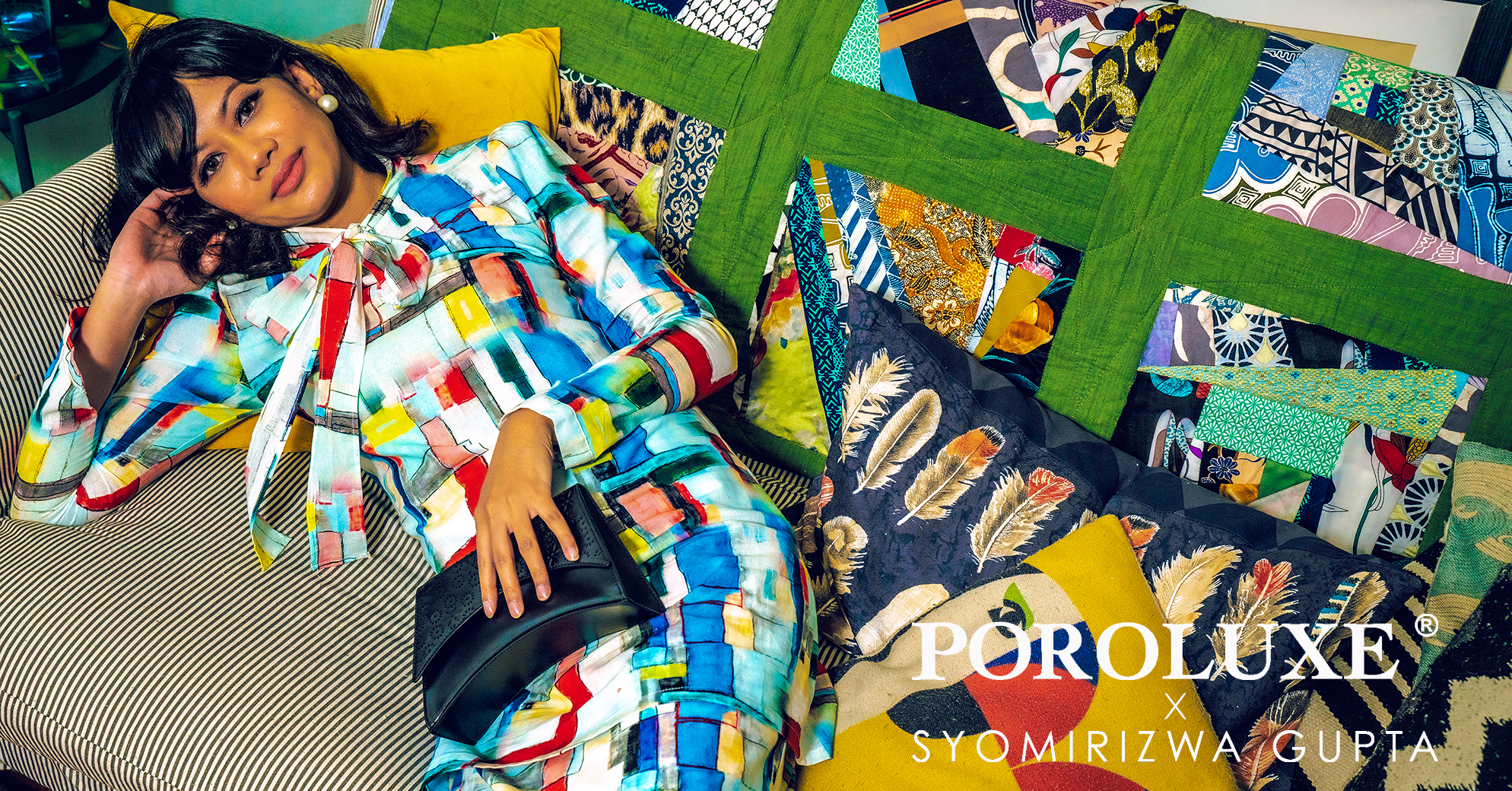 "In celebration of Hari Raya 2021, we are inspired from the widely worn baju kurung and its evolution to become one of the most enduring style in Malaysia. Baju kurung origin dates back to almost 600 years when one of the Melaka ruler changed the way woman wore Kain Kemban which is worn from the bust downwards. One of the first changes covered the neck line and for the dress to be draped below the knee. Baju Kurung Teluk Belanga from Johor has intricate embroidery to decorate the neck line known as mata lalat, tulang belut or insang pari. Evolving with the fashion lifestyle from different states of Malaysia; modern fabrics are introduced, lace decoration, heart shaped neck line, different length of the blouse and pleating patterns.
Collaborating with Mr. Syomir and meeting him for the first time in September 2020 gave us further insights on his creative process of dressmaking. We discussed about the notable pieces he created from past collection and he showed us the intricate work on some of his creations. We got to see first-hand sketches by Syomir and reminisce the nice emotions a hand drawn silhouette can create. Both of us talked about Syomir's hometown of Ipoh and about handcrafted wooden furniture, heritage homes decor and traditional handmade baju kurung.This includes pola lukisan paper pattern drawing of all measurements from the neck to bodice and hip to ensure the fabric fits nicely to the body. Then detail hand sewing to make allowance for different body shapes and also decorative sewing to add styling to the dress.
Similarly, the process of making a beautiful leather handbag has the same handmade heritage of the above. We sent a leather colour chart to Syomir showing the material's colour range, patina tone and texture. Syomir imported and cut wonderful fabrics with prints and fresh colours, which sparked off sketching different bag designs. Discussion continued about the bag's themes, local city fashion and relaxed lifestyle living.Constant dialogues and sketches exchanged between Syomir and artisans at Poroluxe to revise drawings and find a compromise of bag design and craftsmanship. Once decided, a paper pattern is drawn with detail measurements incorporating the theme motifs. The paper is transferred to an acuan-template, which guides the experienced hands of the artisans to cut leather carefully with sharp blades. All the leather patterns are assembled instinctively by the artisan's hand like a work of art. With traditional tools, blade, needles, threads, the artisan takes great pride and puts everything in motion by hand to create their masterpiece. Decorative stitching are added to showcase the expertise and signature of the artisan. Certain handmade handbags can take more than 25days to complete by 1 artisan.
In Syomir RTW 2021, he has created a contemporary collection of baju raya with his Ampang girls theme. Poroluxe has design and produce a set of 5 handbags to complement the theme borrowing from traditional baju kurung nature motifs, vibrant colours of hari raya and decorative stitching by hand."
POROLUXE
Poroluxe x Syomirizwagupta